GOS Group Plc is a fast-growing expert organisation specialised in finance and accounting, founded in 2015. GOS supports its client companies' management, owners and stakeholders by producing critical information and services for decision-making. To enable the best possible service, GOS Group uses the most advanced financial management systems and experienced professionals.
One of these systems is the GOS Holistic Financing Platform (HFP), which is developed in collaboration with Codemate. The financing platform efficiently distributes structured and high-quality information on companies targeted for financing to professional financiers. The financing platform collects and visualises information and forecasts from GOS's experts on different financing targets, which facilitates and speeds up analysis. The solution is used by both GOS's experts and clients.
Digital infrastructure for corporate finance.
Miika Hakola, the Chairman of the Board of GOS Group Plc, explains that the idea for a digital financing platform came to him already in the early 2000s. Obtaining financing has traditionally been a long and analogue process. The need for a digital solution has primarily been felt by financiers, but companies seeking financing are actually the ones that benefit the most. Years later, the idea came to life as GOS Holistic Financing Platform, which Hakola describes as a digital infrastructure for corporate finance.
The comprehensive browser-based financing platform provides digital infrastructure for financing and financial reporting for financiers and client companies. The service is used by banks and other financial institutions, as well as other corporate financing entities. The service is also used by companies needing accurate and up-to-date financial reporting, as well as GOS's own experts.
HFP currently consists of three modules:
Financings: Potential financing participants are provided with ready-made financing materials, which allow for quick financing decisions. Possible updates or additions to the material are immediately available to all financiers simultaneously.
Portfolios: Portfolios enable monitoring of multiple financing targets. GOS's portfolio-specific financial data is used to support this. Financial terms (covenants) related to financing can be defined for companies/financing targets in portfolios, even on a monthly basis, which serve as indicators to the portfolio viewer whether the financial development is as expected.
Dashboards: The Dashboards bring together the key personnel of the monitored company and GOS's analyst to monitor and comment on the company's performance based on GOS's financial data. This allows key personnel to monitor their company's performance on a monthly basis, as well as see possible forecasts based on historical financial data. Financiers can also be given access to monitor the company's financial data, keeping them constantly up to date on the company's situation.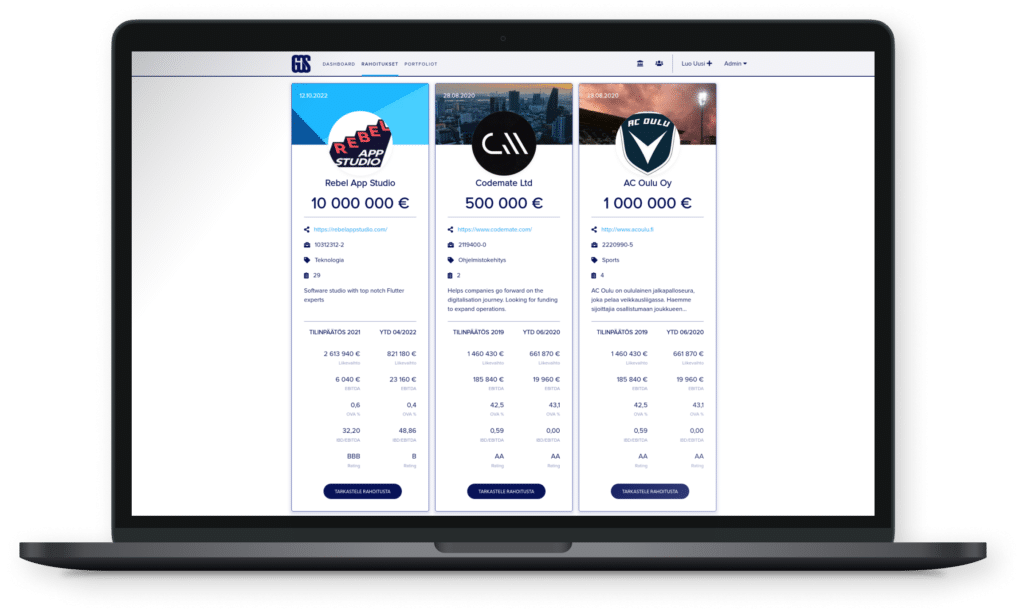 Although the users of HFP represent different organisations, they all share the same goal: to obtain the necessary information in a structured and high-quality format in order to make educated financing decisions, as well as to monitor the company's financial development. HFP serves as a channel for this information.
GOS Holistic Financing Platform effectively connects companies in need of financing with parties that provide financing.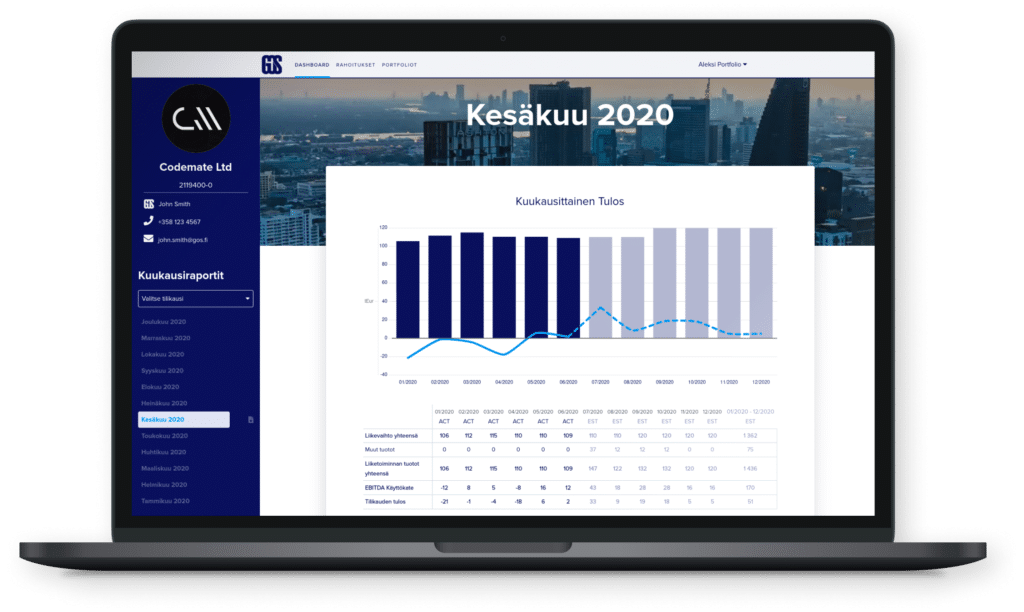 The digital process significantly speeds up and alleviates business financing.
Previously, when multiple actors were involved in the financing process (such as Finnvera, banks, etc.), each financier prepared their own analysis and material from start to finish for their financing decision. With HFP, GOS prepares complete financing material with financial forecast model and credit memorandum for the financing decision, and all actors can utilise the same data.
The company seeking financing, therefore, does not need to prepare separate material for different financiers and wait for their analysis to be completed. Similarly, when the situation or financing structure changes, everyone has updated material available at the same time. This procedure saves a lot of time, effort, and resources.
With HFP, a conventional, up to two-month financing process has been shortened to less than two weeks. In addition to streamlining and speeding up the financing process, the platform offers unrivalled information quality to support decision-making. Thanks to the quality of the information, financier decision-making is accelerated and simplified, significantly shortening financing turnaround times.
Controlled development one step at a time.
GOS Group and Codemate have been collaborating for several years, and the partnership has been mutually rewarding and pleasant, with good personal chemistry between the teams.
Holistic Financing Platform has been developed module by module, which has allowed for controlled and cost-effective progress. Each HFP development project has always started with a planning period of about three weeks (Design Sprint), during which GOS's needs for further development have been planned, defined, and refined in collaboration with Codemate's experts. This proven model ensures that work is not undertaken without careful consideration and that both parties are involved in a controlled manner.
HFP enables GOS Group to arrange financing for its customers very efficiently. The best measure of success is the feedback received from end users. Institutions that manage investment portfolios worth over tens of billions have been amazed by the data provided by HFP, and they have commented comprehensively: "Wow!" says Hakola.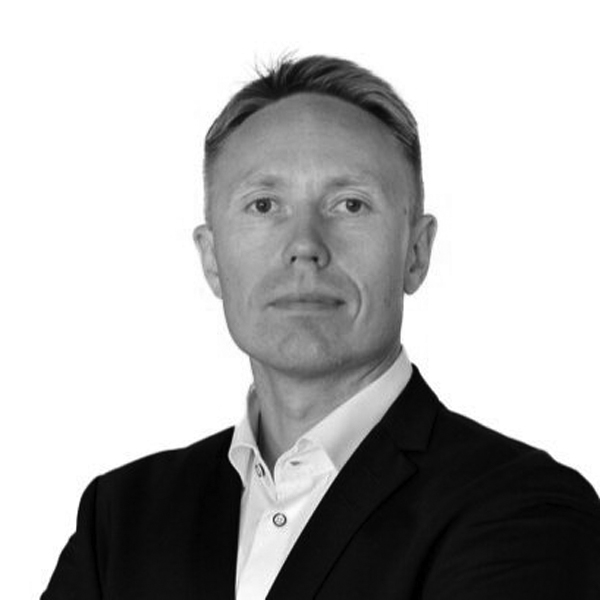 "I have to give credit where credit is due. The cooperation has been smooth and pleasant. I especially liked Codemate's cost-effective approach. The project was carried forward together in a controlled and smart manner in just the right amounts. The people at Codemate are nice and smart, and we will definitely continue working together in the future."
Miika Hakola
Chairman of the Board, GOS Group Plc
What's going on under the hood of the Holistic Financing Platform? Take a closer look at the platform from the developer's perspective!
The Holistic Financing Platform was created from scratch without any particular basis or existing implementation. At the beginning of the project, a design sprint was held to shape an idea into a service suitable for GOS's needs, with GOS's financial data at the centre.
The development team chose Ruby on Rails technology for its security, fast development pace, and flexibility. Quality assurance and testing have been made easy for the developer with RoR, and this directly affects the service's usability, reliability, and therefore quality.
GOS's financial data plays a significant role in the service. At the beginning of the design sprint, the form of financial data was designed together with GOS to make it as clear as possible to record company-related data and easy to import into the HFP service. The data format requirements were that it could be enriched with additional information that could be utilised in the service.
Technologies used in HFP:
Ruby on Rails (RoR)
Cancancan-kirjasto
PostgreSQL
Redis
Cloud & DevOps: AWS, Docker, Terraform, Gitlab CI
The future of the Holistic Financing Platform.
Over the last three years, GOS Group has financed target companies with a total value of over 250 million euros. This volume would not be possible without a digital corporate financing infrastructure like HFP.
Hakola reveals that GOS Group's financial services business is expanding rapidly, as there is a clear need in the market for new solutions for small and medium-sized business financing. There are also a huge number of extension options for HFP, which will be developed with Codemate in a proven, controlled, and cost-effective way.
The financing platform will enable efficient bond markets for small and medium-sized businesses in the medium term," Hakola describes the future of HFP.



Are you eager to hear more about the financing platform?
Contact Jouni!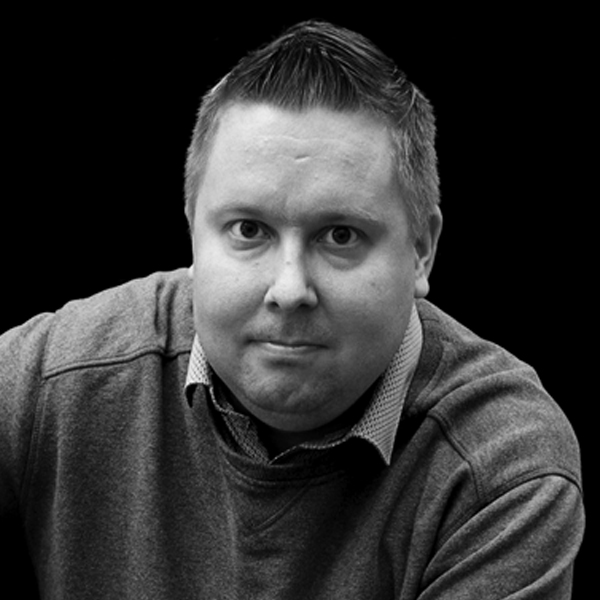 Selected projects
System development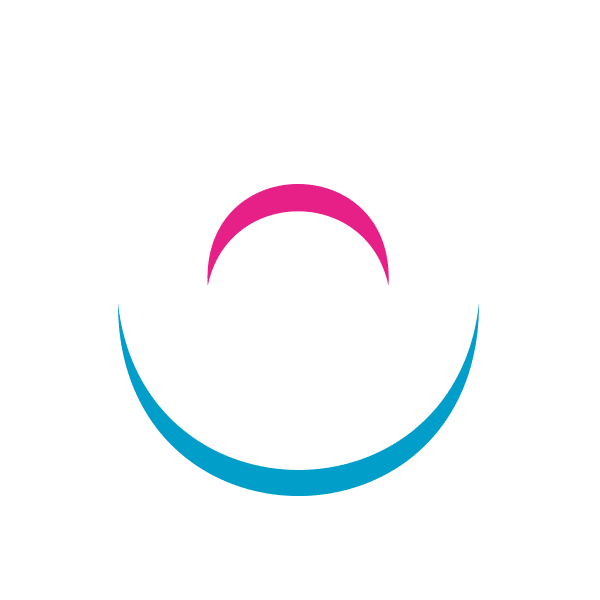 Tradeka / Member portal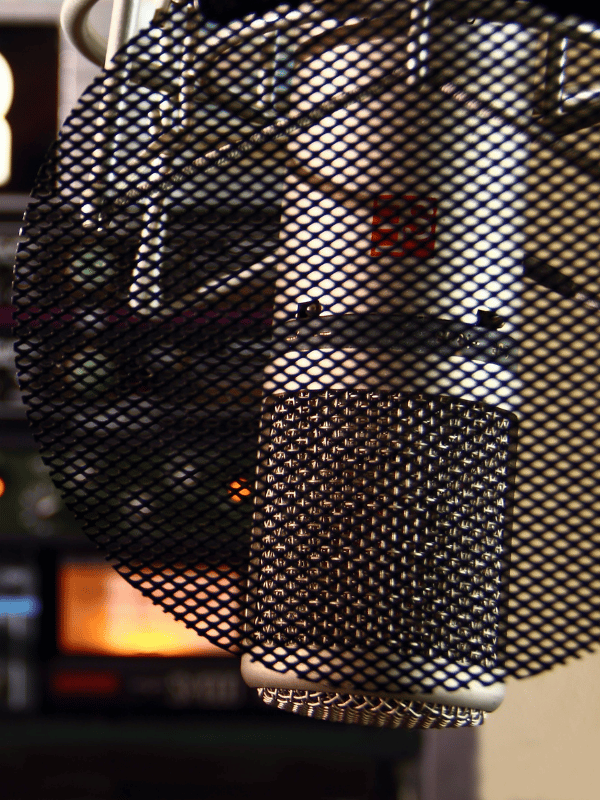 Jutel / Renewal of a radio system product
All references
Over 700 client projects, see examples
See all