Quite often I find myself telling the story of our Flutter adventures, how we managed to partner up with Google and how we then released Rebel App Studio, a sub-brand and a unit of Codemate. This all might fall in the category "mildly interesting" (or r/mildlyinteresting as it's called on Reddit) for some of you reading this. However, for some people, it's rather interesting. At least that's my hope! To accommodate all of you I have written two versions of the story; a super short version and a longer version with some jump scares!
The short version: We did it because…
… we are THE Flutter consultancy in Europe
…we want to be THE Flutter consultancy in the world.
Now, let's move to the longer version!
What is Flutter?
Flutter is Google's open-source UI toolkit for building beautiful apps for any screen. It is the most popular cross-platform development framework with over 3 million developers. There are already half a million Flutter apps, including Alibaba, BMW, Google Pay, PUBG and Burger King – the last one is made by us! We have seen Flutter enabling unlimited design creativity and the fastest time to market.
The early days and some honourable mentions
Here at Codemate we have competence teams that are designated to constantly scan, test and validate new technologies. In 2017 Flutter's open beta caught our attention. For that we can thank one of the most inspiring developers I have met, Iiro Krankka.
Iiro started to fall deeper into the siren songs of Flutter, and he managed to convince me and the rest of Codemate's management team to invest time and resources in an effort to learn more about Flutter. The way he convinced us tells a lot about our culture: he had to pitch the new technology to his colleagues and get a green light from them. For that, we gave Iiro a few months to get familiar with the emerging technology.
The process included internal presentations about Flutter, comparisons with other technologies, and an assessment of a new sales case for a customer that originally requested a native application. The old assumption is that only native applications can deliver world-class user experience. By this point, we already knew that Flutter could reach this level of user experience. Here's a short recap of the last part of the validation from 2017: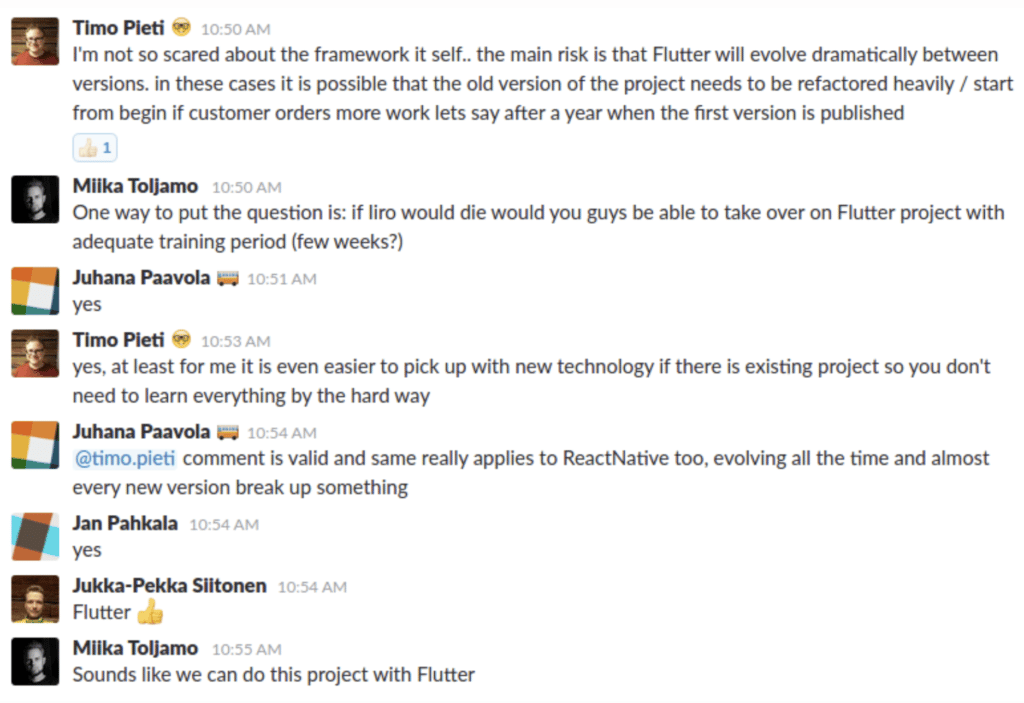 After that it was an easy decision to take the next step: sell the first project to that bold customer who would be willing to take a leap of faith and go forward with a brand-new tech. And you know what? We did it! And our friends at Google liked it a lot. Our first Flutter customer was featured in DartConf Los Angeles in 2018 and was among the first showcased Flutter apps on the official site Flutter.dev!
One of the coolest things from the early days was that we were interviewed for the launch of Flutter beta in February 2018. "Codemate, a development agency in Finland, attributes Flutter's high-velocity dev cycle and customizable UI toolkit to their ability to quickly build a beautiful app…" and we even took a bit of a risk and highly recommended a new technology: "We now confidently recommend Flutter to help our clients perform better and deliver more value to their users across mobile.", said Toni Piirainen, CEO of Codemate.
By the time Flutter 1.0 was launched on December 4th 2018, we had already done multiple commercial consultation projects with it.

Based on the positive and promising results from these tryouts and our first commercial project under our belt, we started to train our developers for Flutter projects. Simultaneously we started campaigns in order to find new customers who would benefit from the speed and quality that Flutter has to offer. One of the highlights of our Flutter adventure was when Tom Gilder joined us in early 2019. He is one of the leading Flutter experts in the world, and has been a key person to train and get our Flutter team to the famous "next level".
In July 2020, Google released Flutter 1.2 with web app support. We released one of the world's first Flutter Web apps in March 2021, and had a nice and cosy Flutter for Web meetup together with Kalle Vuoristo from our awesome customer Moi Mobilli, along with Google's Tim Sneath and Mariam Hasnany.
The charm of the Flutter Community
Flutter is an open-source technology and it wouldn't be as great as it is without the active developer community. I have 20 years of experience in open-source affairs and I have never seen such commitment, passion and love from the community towards any other open-source tech out there. At Rebel App Studio we very much share this passion and our team is eager to participate in community actions and also give back. We are actively organising and taking part in Flutter meetups, we have released open-source plugins and packages for Flutter, and we are main sponsor at the biggest Flutter events.
Hello, world – meet Rebel!
Looking back at our history with Flutter, the way we saw the technology develop, the momentum we had, the increasing demand for top-of-the-world expertise and the great passion from our team, it was evident that we wanted to take things to the next level. We wanted to be open about Flutter being the best technology, but this was proving to be a bit tricky as Codemate is proud to be tech agnostic. In other words we needed an outlet to our passion for Flutter and its amazing community without harming and intervening with the essence of Codemate's brand.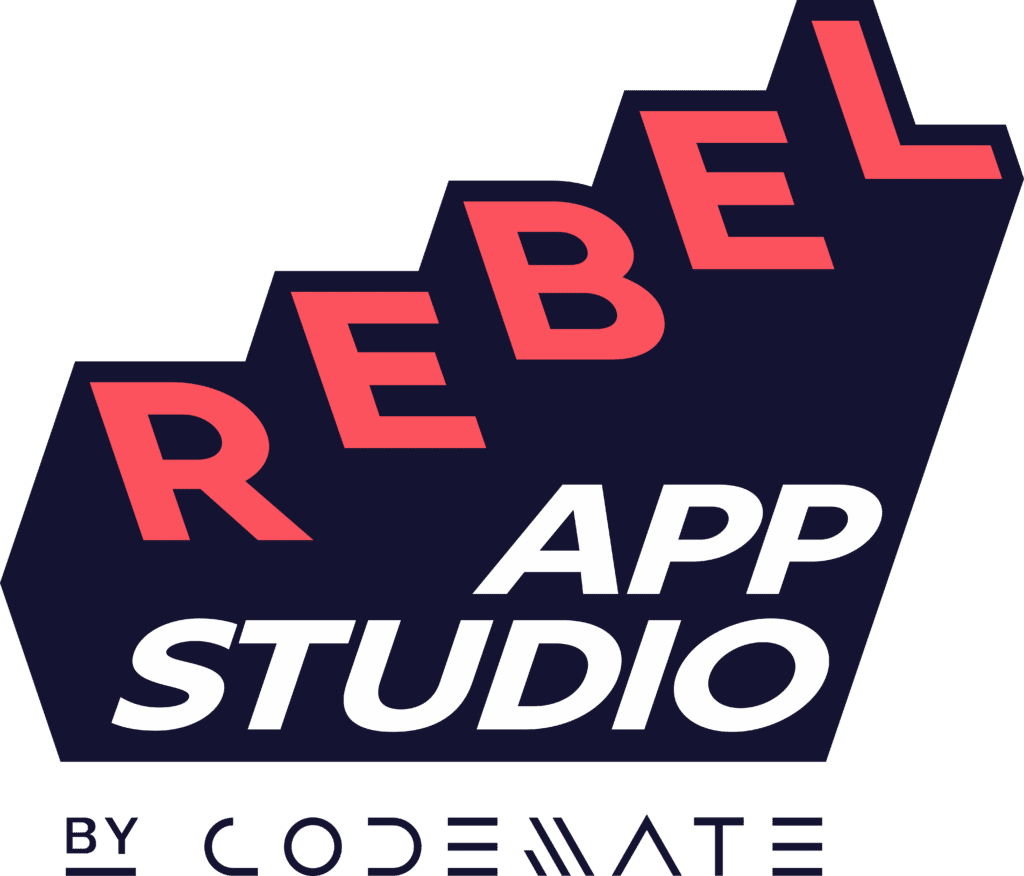 In 2021 we launched Rebel App Studio, which continues our story with what I call "natural progression": a separate brand for our Flutter consultancy that can shout out loud and clear how great Flutter is.
Current state of affairs
Apart from working with awesome projects for world-class brands, we have been partnering with Google on developing Flutter itself. We can publicly mention a few projects: we have improved Flutter Devtools, Dart documentation and we made the official Windows Camera support for Flutter.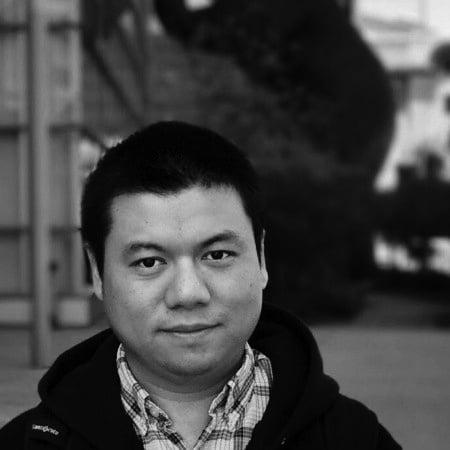 "I was impressed by their flexibility, responsiveness, and professionalism."
Tao Dong
Head of User Experience for Flutter
We have already gained great international recognition and brand awareness with Rebel App Studio and the actions that followed its launch. It is a promise to the Google Flutter team, our customers and partners that we are heavily invested in Flutter. Equally importantly it's a promise to our developers that this is a place you can do what you love – THE home for Flutter developers.
I'm extremely proud of our seniority and expertise in Rebel App Studio. Today we have approximately 15 of what we call Senior Flutter developers, most of them having close to 5 years of commercial experience with Flutter and usually another 10 years of app development experience, and you can double the amount with people that are in various stages of Flutter journey and ready to be THE Flutter developers out there. We are looking to double these numbers within the next year.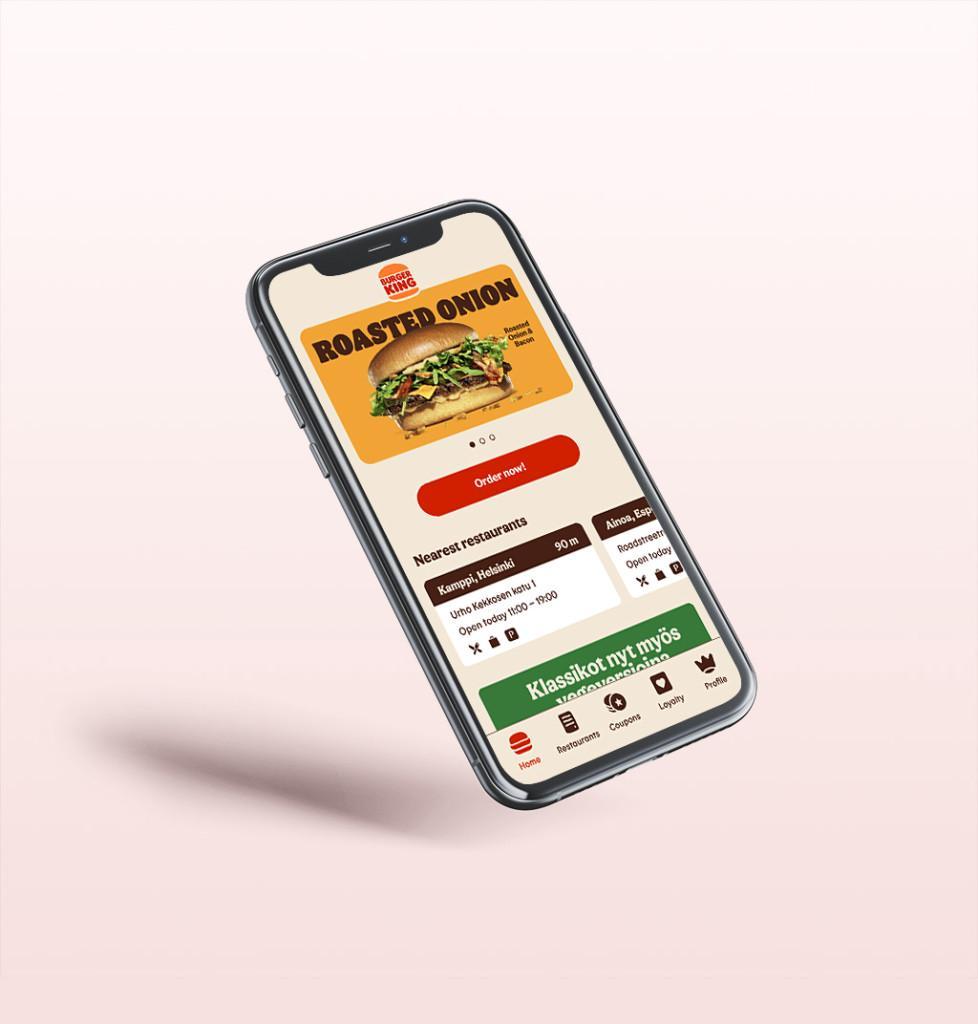 Our latest Flutter release is the new Burger King app currently available in App Stores in Finland. We are super proud of this one!
Visit rebelappstudio.com



Want to learn more?
Contact Miika for more information about Rebel App Studio and/or Flutter!