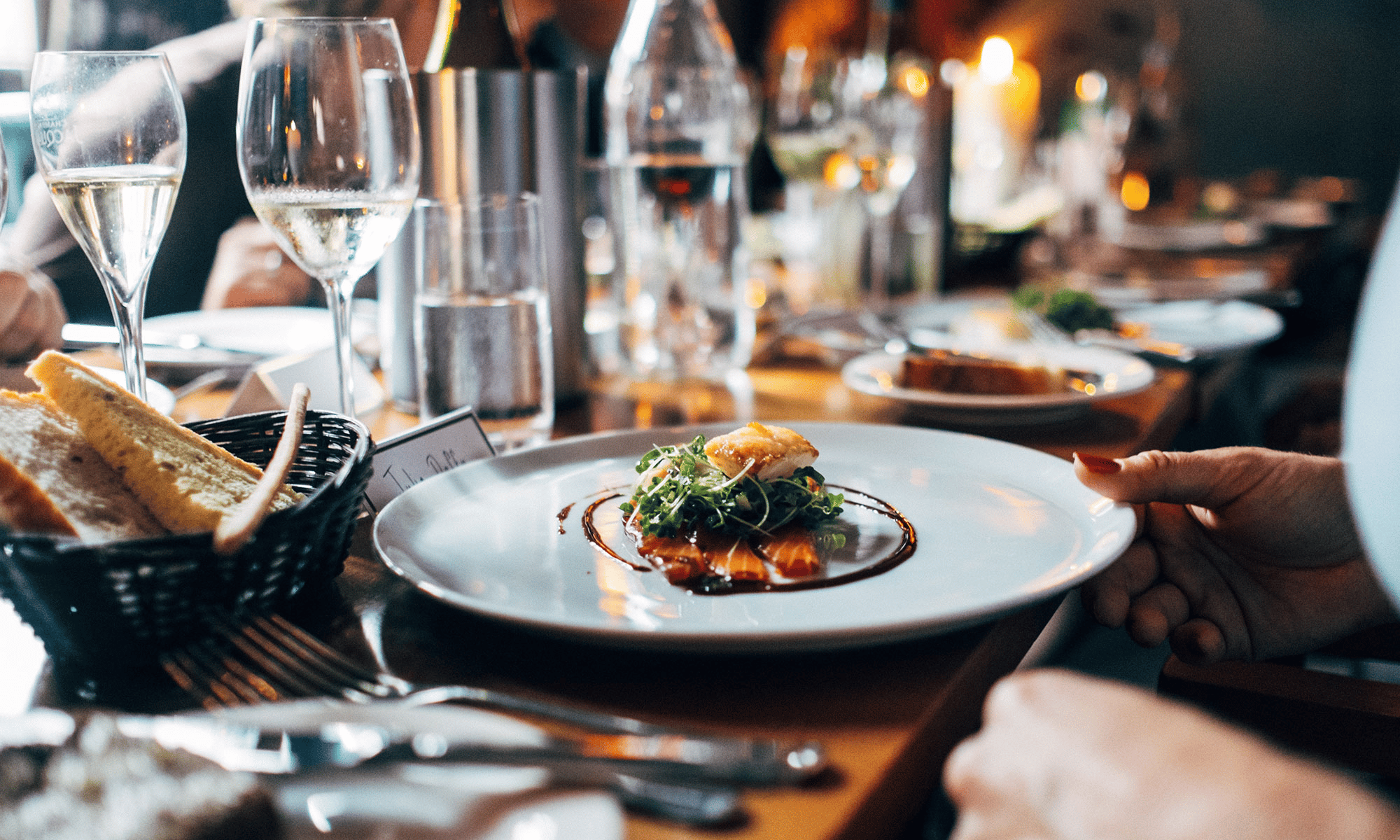 Multibrand solution – One codebase, several brands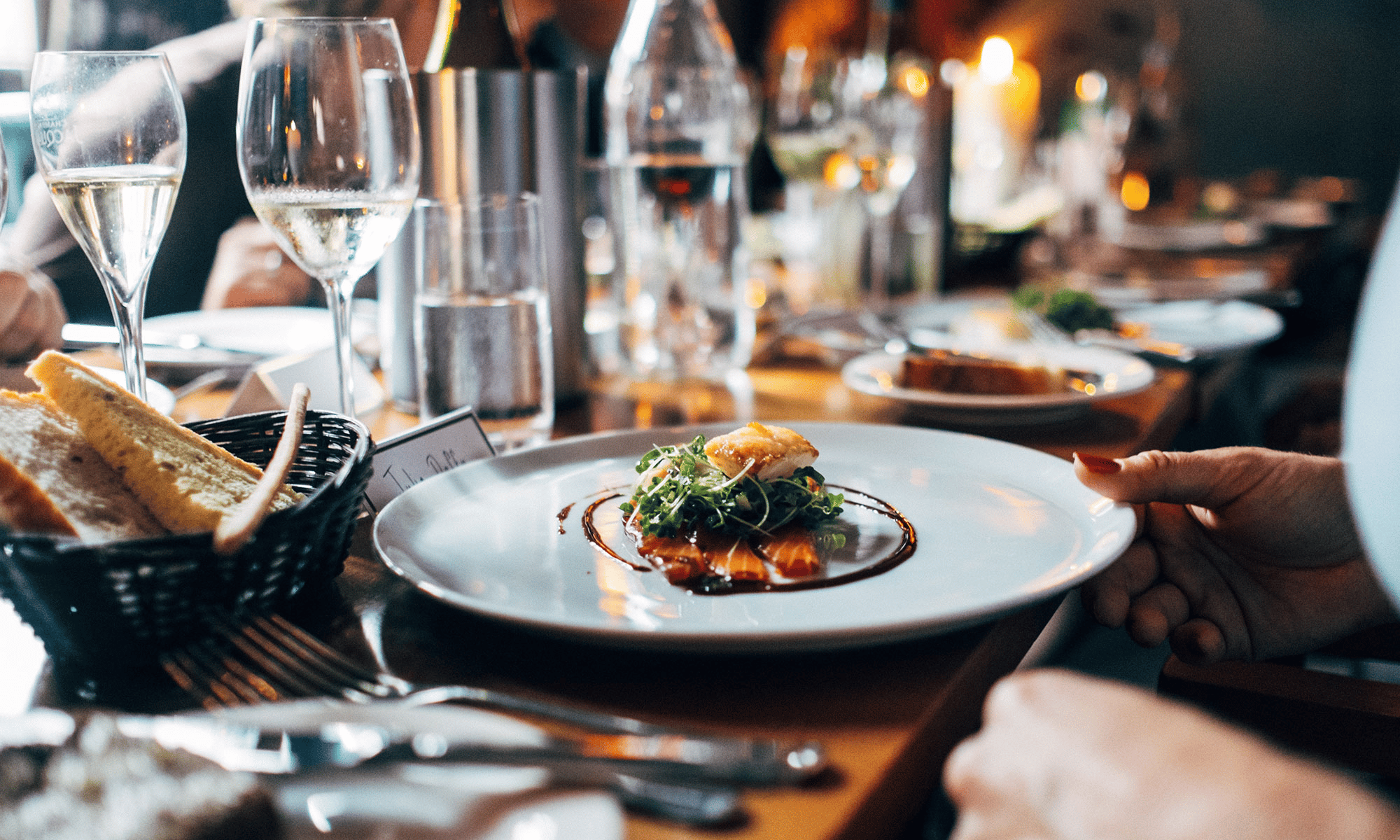 Background
Restel Oy is one of Finland's largest hospitality and restaurant companies. They operate a diverse range of fine dining restaurants, bars, fast-food establishments and events catering services across the country.
Restel was facing a challenge with their current food ordering apps that were nearing the end of their lifecycle and becoming difficult to maintain. They needed to develop new food ordering apps with similar features but tailored to different use cases for their various types of restaurants, in order to continue providing top-notch service to their customers and maintain their competitive edge in the industry.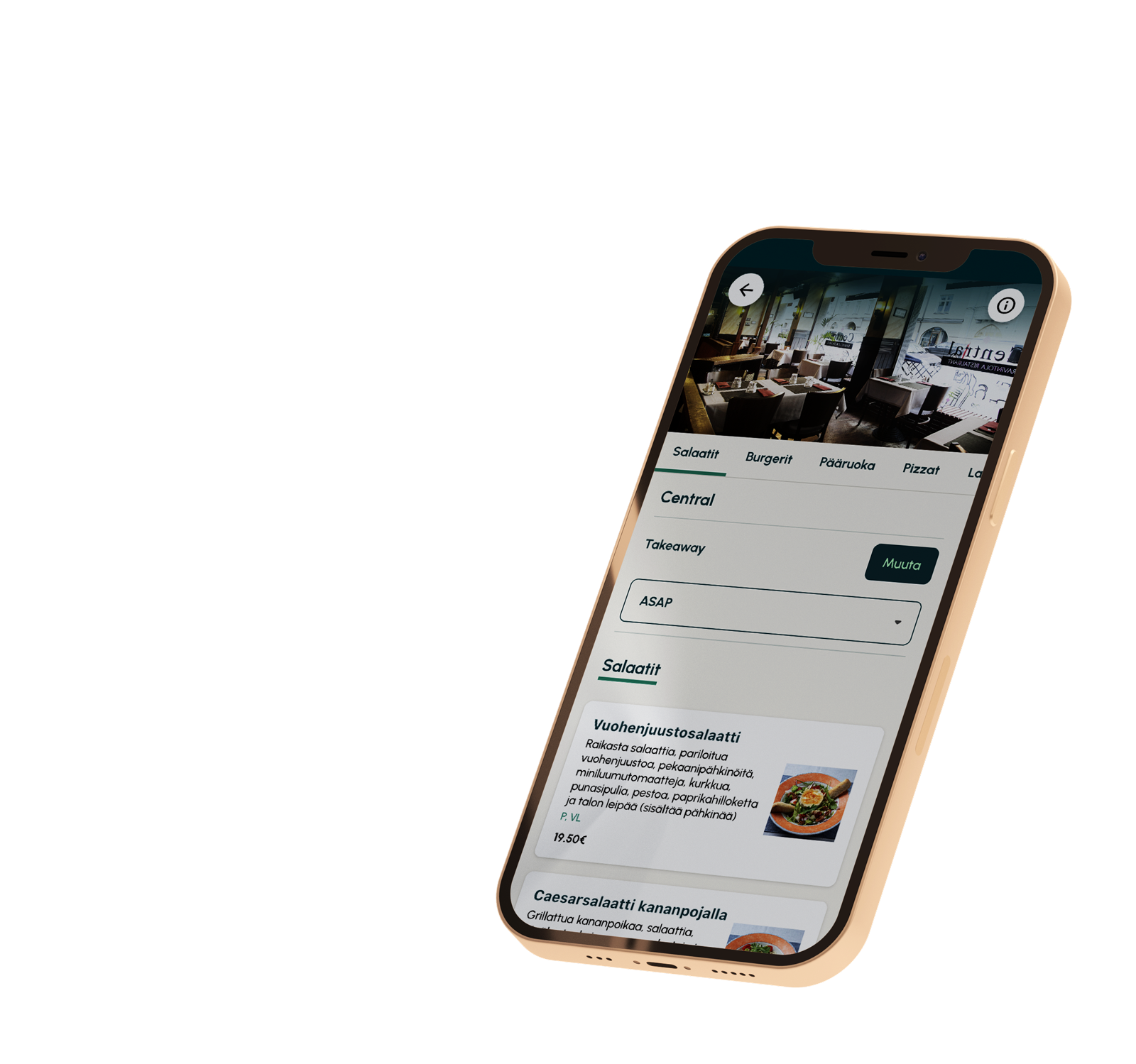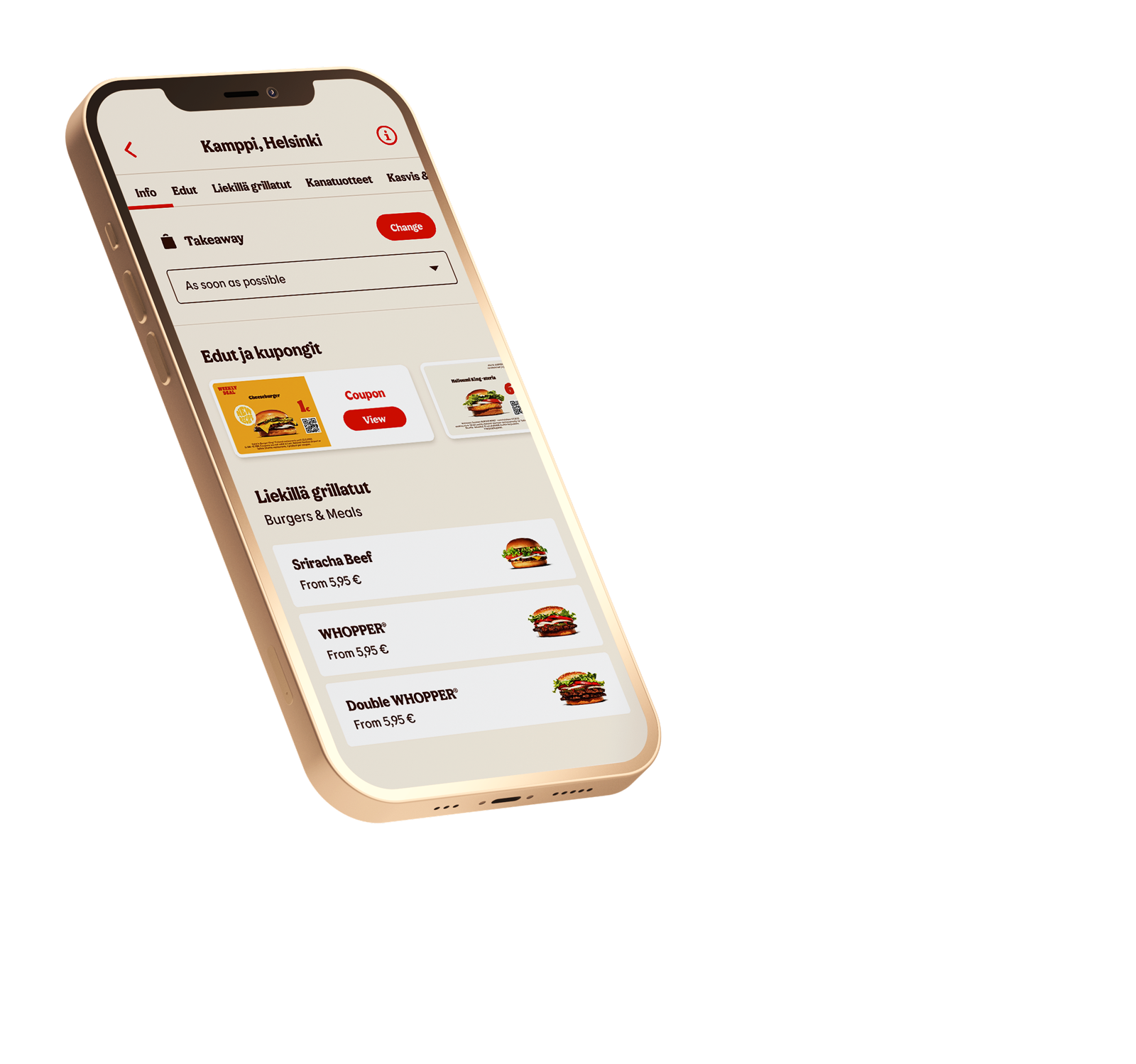 Strategy
To solve the challenge, we used a modern and efficient app development strategy. Our team chose to use Flutter, Google's framework for making modern apps for any screen. This allowed us to create high-performing, visually appealing and user-friendly apps that would meet the needs of Restel's customers.
We decided to try using one codebase to publish the Burger King Finland and Food&Events apps, with the possibility of using the same codebase for more apps in the future. This approach allowed us to streamline the development process and have a remarkable reduction of costs while still providing a unique experience for each establishment. This strategy enabled us to provide our client with an efficient and effective solution that met their needs and exceeded their expectations. And is future-proof!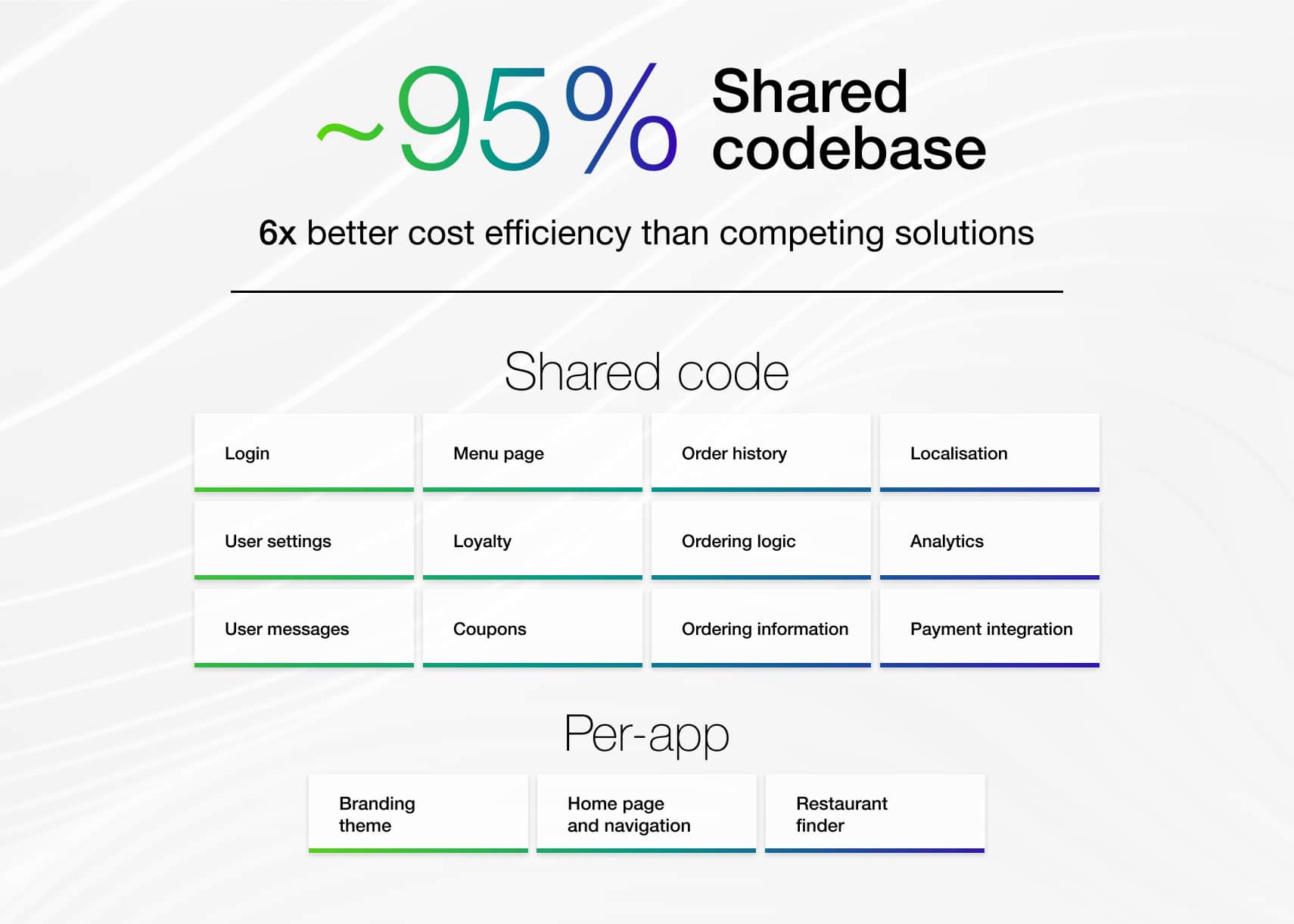 Insight
The insight that guided the design of the new food ordering apps was that Restel's different apps shared a core ordering experience, but they needed different designs customised to the individual brands. We understood that each restaurant had unique needs and preferences when it came to the ordering experience. We knew Flutter was up to the challenge of creating beautiful modern apps, but our team had not used Flutter to generate multiple apps from the same codebase before, however we believed it was up to the challenge.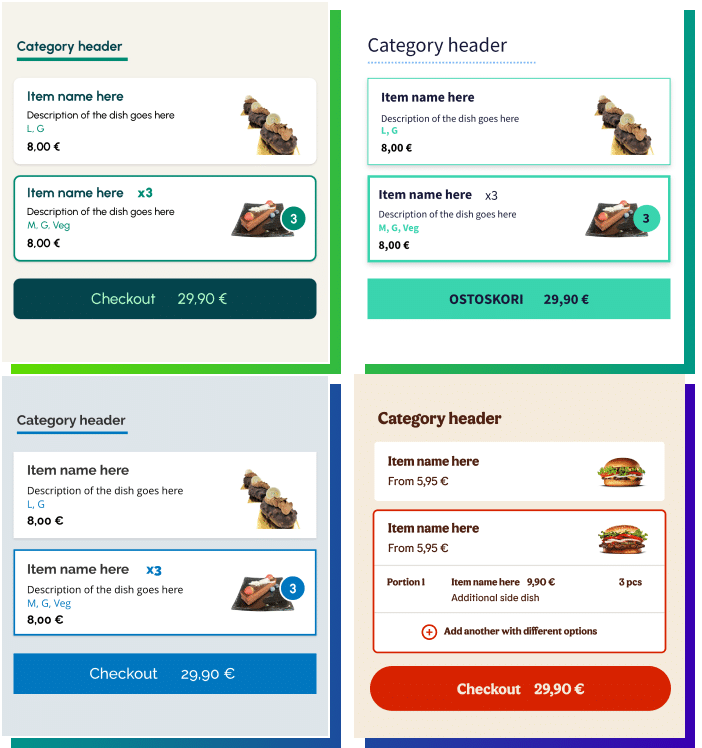 Idea & Execution
We used a modular approach to the development process, which allowed us to drastically reduce development time and costs with a small team, sharing around 90% of the code between apps. We also needed to build custom integrations with native iOS and Android payment systems, but the framework we used made it easy.
Overall, the final implementation is designed to ensure that Restel's customers have an enjoyable and efficient ordering experience while providing a solution that is easy to maintain in the long term. Each restaurant brand is presented as should no compromises needed in the branding. Now Restel has the ability to easily add new brands in the future, the solution can grow alongside the company. Keeping services up to date is also clearly faster.
*For the best experience, make sure you use the latest version of your browser.
Results
The results of the apps is a set of visually-appealing and user-friendly applications that are tailored to the specific needs of each of Restel's establishments. Restel is delighted with the outcome, and users have also loved the new apps, praising the ease of use, speed, and reliability. The apps have helped to increase customer satisfaction, as well as sales, as well as reduced the maintenance and support costs. The new apps have also helped to bring the company's digital presence up-to-date, making it more attractive to customers and more competitive in the market. This is a solid base for any other brand Restel wants to take to digital sales channels.
Planning: Codemate Oy & Restel Oy
Design & Production: Codemate Oy
Customer: Restel Oy